Free shipping on orders above 250$
Login
Log in if you have an account
Dont have an account? Register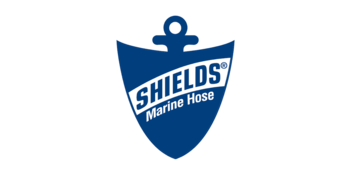 Shields Marine Hose
USAGE, INSPECTION AND MAINTENANCE OF HOSE SYSTEMS
Don't Neglect This Critically Important System On Your Boat
Shields Marine manufactures a wide variety of hoses for applications onboard pleasure craft.  Serving as conduits for fluids, air or exhaust, each Shields hose is designed for a specific application and meets strict standards set by the USCG, ABYC and other regulatory agencies. Hoses also serve as vibration absorbers, isolating components such as exhaust manifolds from the hull of the vessel.
Installers should be mindful of using the right hose for the job. Correct hose and coupling methods should be carried out as outlined by EPA, ABYC, USCG, SAE and the NMMA. Any questions regarding application, replacement or installation should be referred to the Shields technical service department at 217-324-9400.
Inspection
Hose applications aboard any vessel are likely to be mission-critical. Therefore, failure to inspect and replace worn or aged hose can result in the loss of property or possibly, the loss of life.  All mission-critical hose – fuel, wet exhaust, bilge pump, bilge vent and hoses connected below the water line – should be inspected prior to each use of the vessel. All fittings and clamps should be secure and properly attached.  All hoses and connections should be inspected annually by a qualified marine mechanic.
Maintenance and Replacement
If inspection reveals hose damage, those hoses should be replaced consistent with industry standards.  Replace hose that exhibits any of the following signs:
• Cuts, gouges, cracks
• Exposed fabric or wire reinforcement
• Soft spots or bulges
• Loose covers or kinks
• Stiffness or inflexibility
Fittings and clamps should also be inspected to make certain they are secure and properly attached. Clamps should not be over-tightened, as this may damage the hose or fitting. Fittings must be the proper size for the hose. Forcing a hose over an oversized fitting, or clamping down the hose on an undersized fitting may damage the hose and cause failure.